This was the system I wanted to learn from! But it didn't exist so I had to create it, along with other like minded drummers around the world. It empowers us to:
Overcome our inner critics with unbeatable confidence
Delete the unessential to combat confusion
Help us flow around the kit with effortless mastery
But you can't skip steps. There can be no missing pieces. With a holistic system, each part affects the whole.
When your breathing improves, your fills start to come together. With an ergonomic setup dialled in, all of a sudden your double bass chops start to flow. Every area compliments the rest, and it all starts to click. This is the path of 'Life Through Rhythm':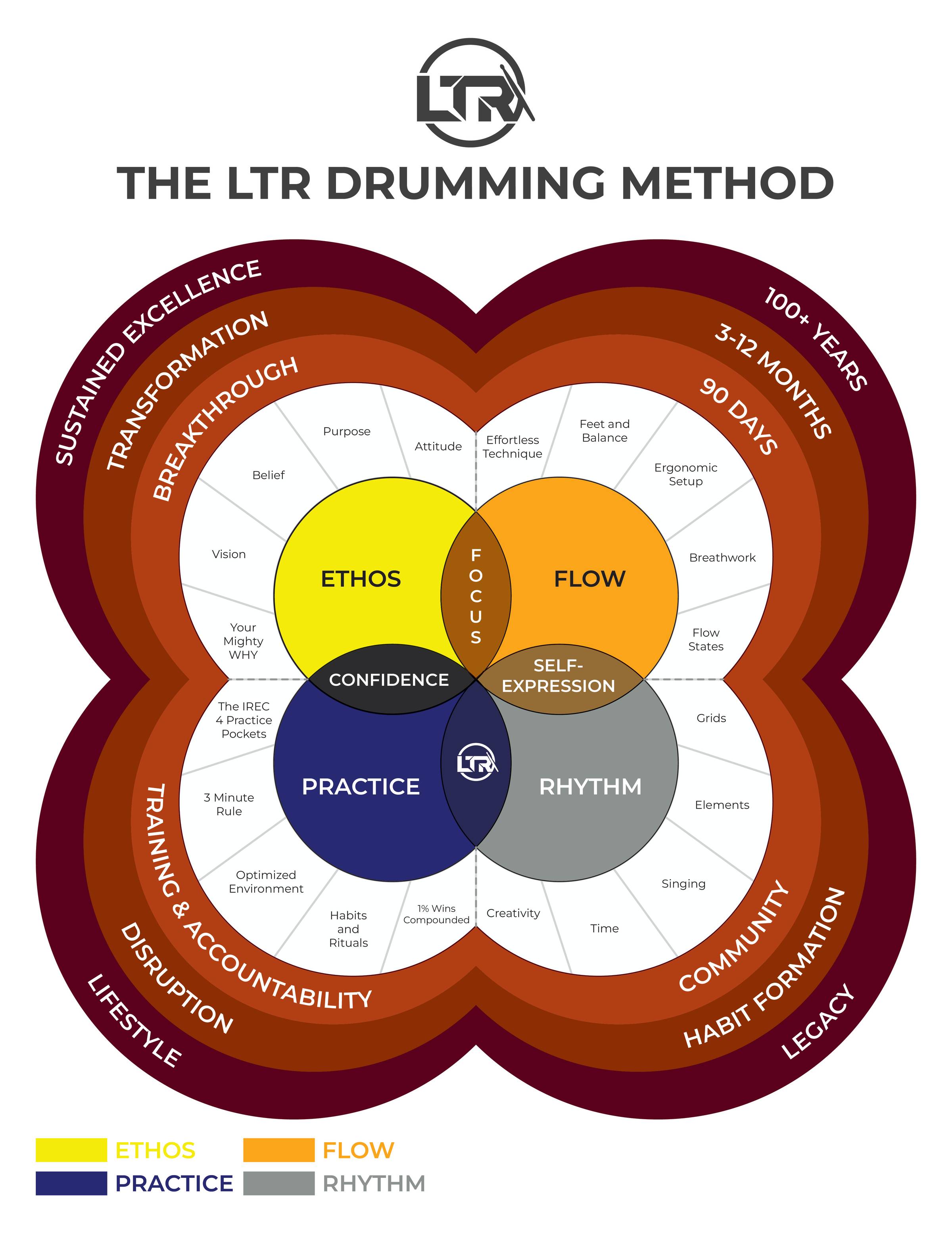 Looking back, I now know the source of so much frustration I went through. I'm so glad I didn't quit! But many do.
This isn't just about me. No drummer does it alone! We all steal from those that resonate with us to create our inner vision. If you know these drummers:
Dom Famularo
Benny Greb
Jim Blackley
Jojo Mayer
Mike Mangini
These drummers aren't just about the notes, but about what's going on behind the notes, so everything flows into one undeniable voice: your true self expression. It's from these and many other drummers that I've traveled the world to study and perform with that the LTR DRUMMING philosophy was born.
They've been teachers and mentors to me, along with the non-drummers (alive or dead, some I've never met!) like Victor Wooten, Bruce Lee, Picasso and Einstein, and many more that all mold the LTR DRUMMING philosophy.
It's who we BECOME on this journey. It's not a destination, it's who we grow into and transform into along the way. All of it goes toward creating the same vision, to create our life through rhythm.
Join the movement!